The need for knowledge among practitioners and the lack of an academic knowledge base for specifically collective social work arrangements in the Netherlands was the reason why Anouk de Koning, Femke Kaulingfreks and Maartje van der Woude started working on a Dutch research program (NWA) request for research on social resilience more than two years ago. A brief introduction to the three IPs and the Crafting Resilience project, in its entirety "Social work and the art of creating resilient societies".
A long-term project, but now 13 researchers, 16 co-funding partners and 11 collaborating partners have joined the consortium to study what is needed to achieve social resilience in an effective, democratic and just way. And with success: the consortium obtained an NWA research grant of 5 million.
Equal collaboration between academics and applied sciences
The equal collaboration between academic partners and researchers from universities of applied sciences (HBO) distinguishes this research project. This was one of the essential conditions for Femke Kaulingfreks to participate in the application for the project. The professor of youth and society at the Inholland University of Applied Sciences did not want to be involved only in the knowledge utilization part, at the very end of a project, which often happens in research projects. Femke: "Our central role in this project as a university of applied sciences is quite special. The ambition of the project is to make research results usable in practice, and to achieve this successfully it is much more productive if you are involved as a researcher from the start. Anouk adds, "In our project, experienced social work professors conduct social work research and academics contribute to the production of applied materials for practitioners. This creates a valuable knowledge exchange.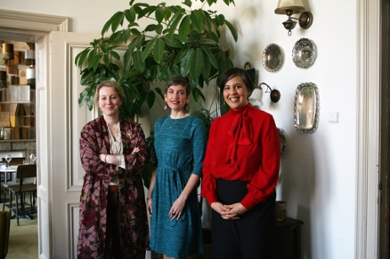 The intersection of social work, care and safety
Anouk and Femke have known each other for years. Anouk served on the Radboud University research committee to which Femke had applied. Femke initially had doubts when Anouk offered to develop the grant application together, but when they were able to get a proportional division of roles between general and applied universities, she was convinced and they started writing Requirement. Anouk also quickly involved law and society professor Maartje van der Woude, with whom she leads the university-wide interdisciplinary research program Social Citizenship and Migration. Maartje was immediately enthusiastic about the idea of ​​developing the security angle within research: "This project fitted in very well with issues on which I had been working for years. I also felt a growing need to think about how scientific knowledge could be translated into real products and ideas that would resonate with the daily reality in which, for example, police professionals have to operate in the Netherlands. In both the criminal justice and social policy arenas, there is a growing convergence between care and safety and much is expected of professionals in this regard, but the knowledge underlying such collaborations is still fault.
Need to practice
The social partners involved are also enthusiastic. The conceptualization of the project started from the needs of the professional field. Anouk: "We did not come up with our own ideas: which is academically interesting, but we entered into an open discussion with various partners in the social and security fields. The project focuses on social resilience initiatives in eight different cities in the Netherlands. Femke: "In the Netherlands, social work is not an academic discipline. Professionals are often busy in their daily professional practice, so there is no time to zoom out and reflect. They often feel that one thing is working better than another, but they don't know why. So, like our partners across multiple government departments and the National Police, these partners are pleased that there is a broad-based review of what works and what doesn't in social work.
Community workshops and long-term interdisciplinary cooperation
The aim is to convert the acquired knowledge into material for practical use. Femke: "We will look at different practices and projects aimed at building social resilience. We will do this in eight cities in the Netherlands over a period of four years. Where do we see new forms of cooperation emerging? What are the effective elements that enable social resilience? The goal is to find common principles that can be applied in multiple places. The ideas are then translated into tools for practical and educational use. Each line of research is considered to result in a manual for the training of social and security professionals, there will be training events for professionals and media productions such as documentaries or podcasts will be made to reach an audience wider.
The project "Social work and the art of shaping resilient societies" [Crafting Resilience] will begin in September and will welcome 6 doctoral students and 3 postdocs. The project asks what is needed to achieve effective, democratic and just collaborations between citizens and government. Cultural anthropologist Anouk de Koning is PI of the first line of research that focuses on the administrative relationships that are shaped under the title of social resilience. Femke Kaulingreks is the PI for the second line of research which focuses on social work professional policy. Maartje van der Woude is the principal investigator of the third line of research which focuses on the frictions and dilemmas of social resilience in the field of security.
/Public release. This material from the original organization/authors may be ad hoc in nature, edited for clarity, style and length. The views and opinions expressed are those of the author or authors. See in full here.